ETT-101 아날로그,디지털응용통신 실험 매뉴얼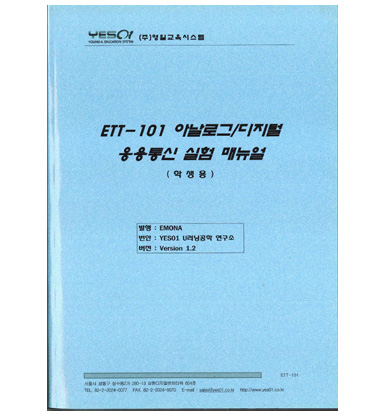 Emona-101 Trainer Lab Manual
Volume 2 -
Further Experiments in Modern Analog and Digital
Telecommunications.
Author : Barry Duncan
Issue Number : 1.1
Published by :
Emona Instruments Pty Ltd,
78 Parramatta Road
Camperdown NSW 2050
AUSTRALIA.
web : www.ett101.com
telephone : +61-2-9519-3933
fax : +61-2-9550-1378
Copyright © 2009-2011 Emona Instruments Pty Ltd and its related entities. All rights reserved. No part of this publication may be reproduced or distributed in any form or by any means, including any network or Web distribution or broadcast for distance learning, or stored in any database or in any network retrieval system, without the prior written consent of Emona Instruments Pty Ltd.
For licensing information, please contact Emona Instruments Pty Ltd.
The "biskit" logo is a trademark of Emona TIMS Pty Ltd
Printed in Australia
Contents - ETT - 101 Lab Manual Volume 2
Introduction
Introduction to the ETT-101 trainer
Guidelines for Using the ETT-101 Lab Manual Volume 2
Test Equipment Required
1 - AM (method 2) & product detection
2 - Noise in AM communications
3 - PCM and time division multiplexing (TDM)
4 - An introduction to Armstrong's modulator
5 - Phase division modulation and demodulation
6 - Pulse-width modulation & demodulation
7 - Message translation & inversion
8 - Carrier acquistion using the PLL
9 - SNR & eye diagrams
10 - PCM and SNDR
11 - ASK demodulation using product detection
12 - FSK generation (switching method) & demodulation
13 - Principles of GFSK
14 - PN sequence spectra and noise generation
15 - Line coding and bit clock regeneration
16 - Delta modulation & demodulation
17 - Delta-sigma modulation & demodulation
18 - observations of AM & DSBSC signals in t he freq domain
19 - Demonstrating the principles of superheterodyne
20 - Frequency synthesis using a digital PLL
21 - Differential phase shift keying (DPSK)
22 - PAM and time division multiplexing (TDM)
Appendix A - Initial set-up of an oscilloscope
교재문의 : info@yes01.co.kr